Scope
From the largest animals to the smallest single-cell organisms, motility is a fundamental characteristic of life. Cell swimming, in particular, underpins a wide range of fundamental biological phenomena, including microbial grazing that fuels the base of the food webs, inter-microbial communication, animal reproduction, and parasitic infection—including severe diseases like malaria trypanosomiasis. Motile microorganisms are among the most important life-forms on earth, not only because of their abundance, but also because of their vital functions, e.g., in symbiosis with mammals or in ecosystems. Unravelling the basic principles of their propulsion mechanisms is essential for the development of novel strategies in the treatment of diseases, to understand microbial transport like the migration of marine phytoplankton in aquatic environments, and ultimately to open avenues for control of biological systems and the design of artificial nanomachines.
Topics
Motility and Sensing

Collective Motion
Geometry and Motility​
Invited speakers (confirmed)
Ingmar Riedel-Kruse (University of Arizona, Tucson)
Michael Shelley (New York University)
Lisa Fauci (Tulane University, New Orleans)​
Philippe Bastin (Institut Pasteur, Paris)
Teresa López-León (ESPCI, Paris)​
Kirsty Wan (University of Exeter)
Daniel Tam (TU Delft, Delft)

All PHYMOT projects will be presented
Organization
Scientific Organization
Anke Lindner (ESPCI, Paris)​
Eric Clement (ESPCI, Paris)​
Roberto Di Leonardo (University Rome La Sapienza)​
Thomas Kiørboe (Technical University Denmark)
Gerhard Gompper (Forschungszentrum Jülich)​
Local Organization​
Anker Lindner & Eric Clement
PHYMOT management​
G. Gompper & G. Vliegenthart
---
Fees
The conference fee includes coffee-breaks, lunch breaks, buffet/finger-food at the poster session and the conference dinner. Accommodation is not included in the fee. For suggestions for hotels go to the section "links" below.
Student early (before Sept. 25, 2022): 125 euro
Student late​: 175 euro
Other early​ (before Sept. 25, 2022): 175 euro
Other late​: 225 euro
Important Dates
Abstract submission deadline: Sept. 9, 2022
Notification of accepted abstracts: Sept. 16, 2022
Early bird deadline: Sept. 25, 2022
Payment deadline: Oct. 14, 2022
Note that invoices will be send only after abstract notification
Registration
Please follow the registration procedure as indicated:
Register first, you will receive a 4-digit registration number by email. Use the registration number for the submission of your abstract.
Please use the correct billing address and email address in order to avoid cancellation and reissuing the invoice.
Download the template (Tex/Word) for the abstract here.
Submit your abstract as a .zip file (max 10Mb). With your submission include the Tex/Doc file as well as the Figures in PDF, PNG, JPG,…
For registration, you will be asked to provide
Name
Email
member of PHYMOT group or PHYMOT partner Y/N
Affiliation as on badge
Billing address (check with your institution)
Invited speaker Y/N
Dietary restrictions
Registration is closed, for information contact etn-phymot@fz-juelich.de
Covid 19
Please take notice of the regulations for travel to and in France on the website of the French ministries of foreign affairs and internal affairs.
In case of COVID related restrictions on travel and in person meetings we may decide to hold the meeting online. Please check this website regularly.
---
Information for speakers
Invited talks: 30 minutes including discussion
PHYMOT talks: 20 minutes including discussion
Contributed talks: 20 minutes including discussion
Technical boundary conditions require your presentation to be uploaded to a fixed computer in the conference room. Please check your presentation in the break before your session.
Information for poster presenters
Posters are presented in a single poster session Wednesday, Nov. 3, at 18.00. The order of posters is by registration number and a list of posters can be found in the book of abstracts or as a separate list to be downloaded below.
Poster boards are A0 in portrait format.
You are kindly asked to remove your poster at the end of the poster session.
Program for download
You can download the short program and list of posters here
(Last updated Oct. 28)
You can download the book of abstracts here
(Last updated Oct. 30)
Program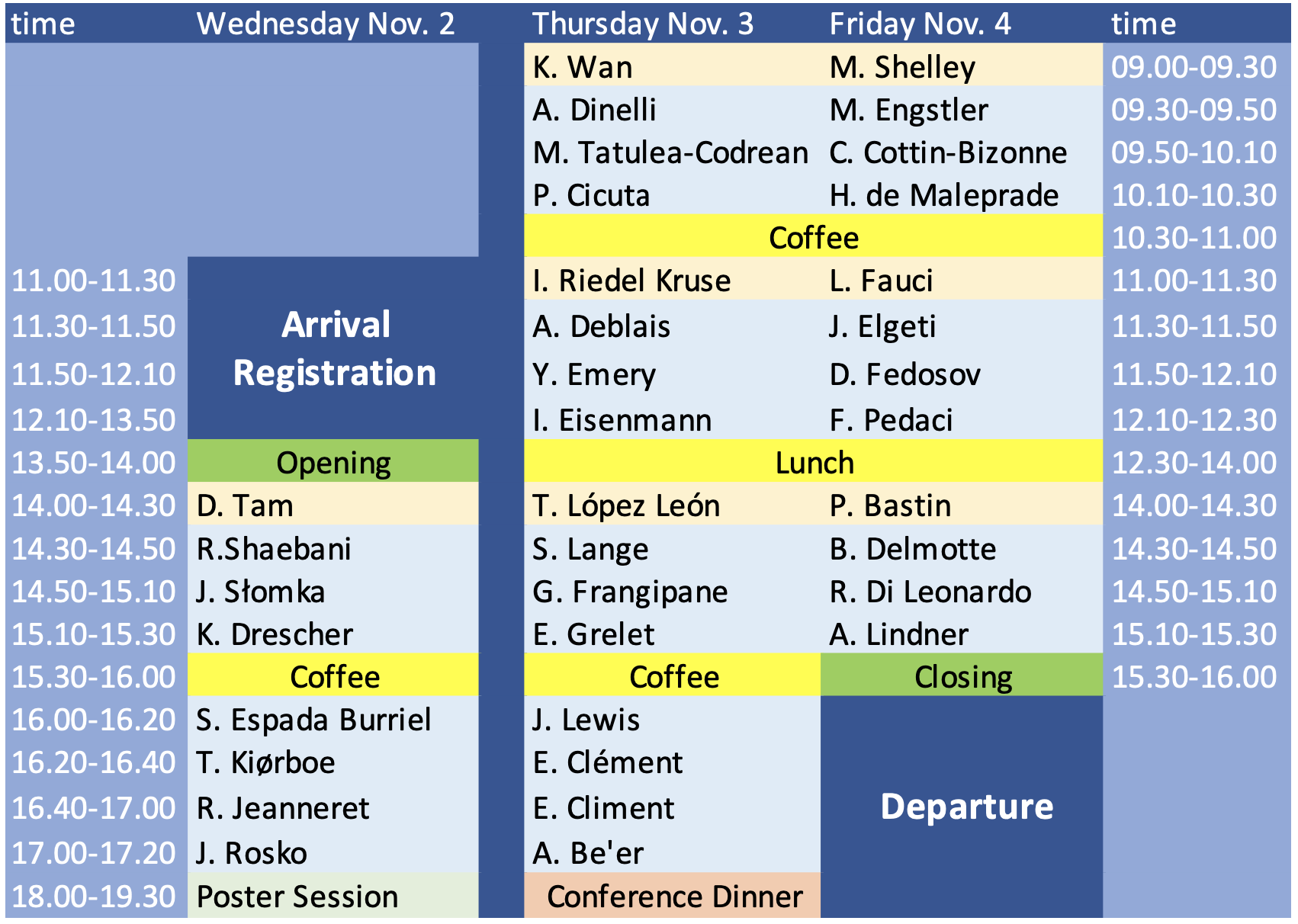 ---
Venue
The workshop will take place at the Institut Pierre-Gilles de Gennes at 6 Rue Jean Calvin, 75005 Paris.
The closest Metro stations are "Censier – Daubenton"  and "Place Monge" line 7. 
Please be aware of pickpocketers during travel by public transport.
Conference Dinner
The conference dinner will be held on Thursday night from 18.00 on, at the Salle Panoramique,
Tour Zémanski, 24th floor Campus Jussieu, Sorbonne Université, 4, place Jussieu, 75005 We will
walk here all together after the last talk of the day.